Rather grandly calling this Surface Design Corner, it should really be sewing, dyeing, weaving corner.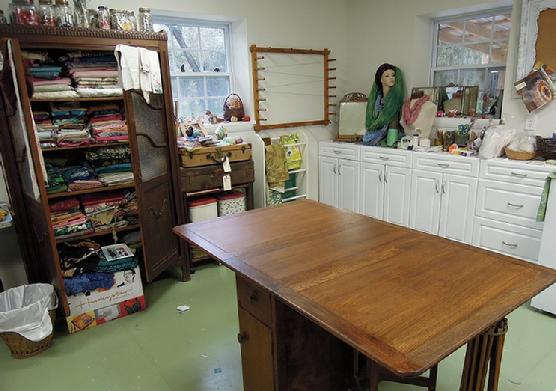 What? a clear table? In my studio?
Below you can see pictures of the pink, turquoise, gray weaving done in Kathrin Weber's class at John C. I'm going to use that to make some pillows and cushion covers for the salon (a very grand name for the open space between the master bedroom and Steve's office upstairs). There is a lovely big bamboo sofa just waiting for cushions.
Dharma Trading supplied some white cotton denim which I will dye in shades of turquoise and gray for cushion covers and pillow backs. When sorting some stuff from the Pompano house, Steve and I came across some vintage barkcloth curtain panels that have pink and turquoise trees on them. Not sure yet which cushions and which pillows will get which fabrics.
The first thing I wanted to do was make some muslin covers for the big cushions which I had cut at a local upholstery store. Which meant I had to clean off this table. That was a job in itself! LOL. I was so proud of that - just the clearing of a single table - that I had to take a picture with my new Nikon CoolPix P300. If you notice, there really isn't any empty surface anywhere else in this corner of the studio!!
| | |
| --- | --- |
| Two cotton scarves | Two hand wovern scarves. Both are cotton. One has hand dyed yarn by Kathrin Weber. One woven at John C. Campbell in Pam Howard's class last November, the other on my Baby Wolf in the surface design corner. Using the new stainless 12 dent reed. How nice! |
In January I attended a really great class at John C., with Kathrin Weber, dyeing yarn and then weaving with it. The Baby Wolf got two new reeds for Christmas, stainless steel, one 10 dent and one 12 dent. Soon there will be more pictures here. The following are from classes at John C.
Hand dyed hand woven Turquoise Side
Plain tabby weaving with hand dyed cotton warp and weft.
Bindi and Uschi examine the weaving and yarn

Two more pics of the material from Kathrin's class. The class was great, you definitely want to take it. It was the first time that I successfully warped front to back. That's different. But if you saw her beautiful weaving you'd know that it produces amazing fabric. The dyeing part was very fun and just amazing colors were produced by us all. We all could have cheerfully done that for several more days!

All the yarn dyed in this class was plant based, cotton and rayon, some bamboo. We used ProChem Fiber Reactive Dyes. The hardest part of this, for me, was scouring. I bought a variety of cotton and bamboo skeins from Dharma Trading, and all of it had to be scoured for 15 to 20 minutes before dyeing. Such is life! It didn't stop the whole process from being wonderful and amazing. Even with the constant rain, enough dried by Sunday evening so we could start warping.

Please go to Kathrin's website blazingshuttles.com and see her stuff. She also has a Facebook page.






Hand dyed Hand woven
Hand dyed cotton boucle

A ball of cotton boucle hand dyed with ProChem Fiber Reactive Dyes. The ball really hides all the colors, it varies blue to green to goldenrod yellow. One of the coolest things in Kathrin's weaving class was laying yarns that you might not normally warp with over other warp threads in the same dent. You might be able to see that in the previous pictures of the pink,turquoise and gray weaving. Another new idea to me for exploration.


Hand dyed cotton boucle
| | |
| --- | --- |
| Hand woven rag rug | This rug was woven in Christie Rogers class at John C. in 2009. Another class that I very highly recommend. There really isn't a bad weaving class there. At all. |
Still working on recovering cushions for various pieces of furniture. This fabric is for a seat of wicker furniture that we bought from Thrifty Nikki's furniture place. Visit her stores when you are in the DeLand, FL area. We are blessed to have a number of really excellent resale, thrift, and antique stores in this area. If you are ever this way and want someone to show you around, email me: info@thefernery.com.

The fabric was found at Trash to Treasures in Ft. Lauderdale. Turquoise duck remnants that would have gone into the trash, but was saved by the folks there. Very simple techniques to transform it. First I used those chlorox bleach pens to remove color in swirls all over. Then I used a stamp from Plaid Products to stamps Createx fabric paint.
The first step was to wash and iron the fabric. I washed it in synthropol. Next I used those Chlorox bleach pens to randomly draw all over. These things are a tad expensive, so need to use a different method next time. But the ability to draw was cool! Once all the pieces were dry, they got washed again and dried. I was a little sad that the interim color, a lovely yellow, didn't last long. You don't always know what you will get when you remove color, depends on the fabric and dyes used.

Next it gets washed and dried and ironed again, then on to the sewing.

It sure is wonderful to have the space in the studio for all this. The washer and dryer right there and all the storage space. I used to have to do all my dying in the kitchen! This is so much better. Thanks to my dh for building me this fabulous space!
Copyright 2008-2022 thefernery.com